Demi Lovato and Camila Cabello became friends on the X Factor when Camila was apart of Fifth Harmony.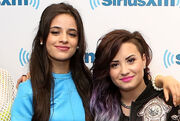 Camila had to clear up rumours of her shading Demi after Demi was angered about a drawing of herself. Camila posted a bunch of fan art that she loved and was greatful for which some fans took as shade to Demi.
Demi said that Camila was the only one who shined in Fifth Harmony.
Fifth Harmony were the opening act for Demi Lovato's Neon Lights Tour.
Demi hugged Camila on the X Factor whilst performing "Heart Attack".
Camila said her favourite song "off of demi's new album" was all of them.
Camila have a cover of Demi's song ' Skyscraper' when she was younger.